My previous visit three years ago can be read in another article on this Travel Diary. On that occasion, I re-visited the main places used in the film namely Werfen, Lofer and Ebensee and, for this visit, I had the option to either visit "Oberhausen Airfield" from where the getaway at the end of the film is made or a road near Hallein where Smith and Schaeffer overcome their captors and push a car into a gorge. I settled on "Oberhausen" – or the military airfield at Aigen im Ennstal near the town of Stainach-Irdning – partly because I suspected I would find it more easily but also because my mother said somewhat witheringly that it seemed bizarre to go on holiday to find a bend in the road... I chose Aigen im Ennstal because, in going at the weekend, buses were scarce to find the bend in the road near Hallein and, whilst I had a fair idea of where I was heading for, I wasn't totally convinced I would find it.

I flew to Munich with easyJet at the ungodly hour of 6.20am which meant getting up at 3.45am... Ye Gods, it was as bad as it sounded but it did get me into Munich by 9am and to my base in Kaprun by mid-afternoon. I'd been to Kaprun around seventeen years ago and stayed at the, I believe at the time, comparatively new Steigenberger hotel. I returned to the same place having booked it as the Steigenberger only to find that, a few days before my arrival, it had changed its name to Das Alpenhaus. From the outside, its wooden balconies didn't exude quite the same charm as they had all those years ago but it's undoubtedly a very decent hotel with good size rooms, an excellent breakfast and a wonderful spa area with swimming pool, infrared cabin and two saunas and a turkish bath. I managed a few lengths of the pool – when it was quiet: I thrash about too much and am far from being a graceful and competent swimmer but I did pleasantly surprise myself – and I am already feeling the benefits of the saunas, the Biosauna being easier to stay in than the Finnish. Sadly, the weather was predominantly poor throughout the weekend.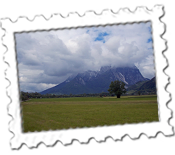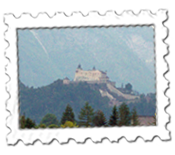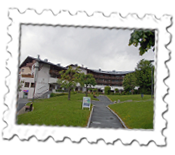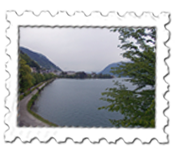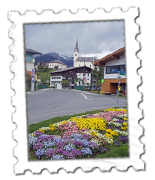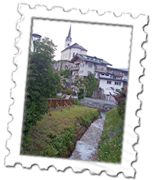 My early starts continued the following morning with the trip to "Oberhausen". It's not that the trains aren't regular or plentiful enough but no journey ever seems to be that convenient so a full day was required and started at 7.20am by bus from Kaprun to Zell am See and two trains to Stainach-Irdning, a town overlooked by Grimming, the distinctive mountain seen at the end of the film. Having used Google maps, I quickly discovered a quicker route than the suggested one and, ye Gods, not only didn't for once get lost but came upon the airfield in just over twenty minutes. The control tower is very slightly bigger than it was in 1968 but it is nonetheless unmistakeable to anyone who is fascinated, like me, by the film. It is the home of the Fiela-Fernbrugg garrison but there isn't so much a runway as a grass landing and take off strip and was extremely peaceful. The tarmac area, which appears quite large in the film, is in reality very small. Due to finding it so easily, I was able to get back two hours earlier than planned and, at Bishofshofen, walked towards Werfen in the time available before one of the irregular trains back, and saw Schloss Hohenwerfen or, in the film, Schloss Adler, from a distance. It was, nonetheless, an impressive sight. It was also used in the filming of The Sound of Music, a slightly different film to Where Eagles Dare...

In the hotel, I found myself acting as an interpreter for a Saudi chap who relied more on hand signals and a smattering of English and a Hungarian girl whose German was better than her English and this adversity brought out the best in my German and I was rather chuffed with my efforts. Chuffed, too, at being encouraged to swim by the Hungarian girl and finding that it wasn't quite as bad as I had anticipated having not attempted to swim for a few years. Okay, I had to remember to try to move my feet to stay afloat, open my mouth to get air whilst simultaneously not trying to swallow the water and there was nothing remotely graceful or aesthetically pleasing about the waves I was causing in otherwise calmer waters before my entrance but they tend not to worry in Germanic countries, I find, and the expected aches and pains haven't materialised.

I did have a lie-in on Sunday and took to Zell am See by foot. Possibly, I was lucky as the weather, whilst being far from ideal, at least stayed dry and occasionally came out nicely. The lake at Zell is delightful but would have looked better on a nicer day but it was a pleasant walk and I returned to watch the crash-strewn Grand Prix at Monaco. I've been to the race twice and it's a fantastic atmosphere but this one lasted nearly two and a half hours due to stoppages and safety cars. I took to the pool again and managed some ten lengths with the Hungarian girl who had said she wasn't expected that evening so, the pool, whilst not exactly resembling the Bay of Biscay whilst I was thrashing about in an ungainly fashion, at least became more settled after I had finished.

Another early start on the 7.20am bus on the Monday made for a fairly anxious connection which was only ever, at best, going to be eight minutes at Zell am See. I had tried to buy a ticket to Salzburg Airport the day before but tickets could only be purchased on the day. Traffic held up the bus by five minutes so I was quite relieved to get on to the platform as the train was arriving. It went through Werfen and I was at Salzburg in fair time for my British Airways flight. I am a fan of easyJet, with whom I had flown three days previously, but the British Airways flight in an exit seat to accommodate my 6'5" frame with an included snack and a glass of wine, was the perfect way of finishing a lovely weekend. I still want to visit one or two more places from Where Eagles Dare and am not done just yet. Next year, after all, the bend in the road near Hallein beckons...