The revised itinerary meant flying to Rome for just one night en route to Catania. I took an afternoon Vueling flight from Gatwick but, inevitably and frustratingly, it became yet another flight which was delayed by more than an hour mainly because passengers had to be bussed to the aircraft and it took time. I had pre-booked a seat but the space was hopelessly inadequate and I had to sit side-saddle as I couldn't move sitting forward.
Last year, I had used Terravision to go from the airport to Termini Station and it was chaotic. This time wasn't much better simply because the boards weren't updated so I had no idea which bus I eventually caught. All I know is that there was again quite a wait and, whilst buses came and went, they weren't Terravision. Anyway, once on board, it did reach Termini quickly so I was grateful. I had booked into the Hotel Bruna and it was ideally located just opposite one of the station's exits and a few seconds walk away.
Like many Italian hotels, it took one floor of a large building. The lift was enough to fill anyone with terror and wouldn't have held anyone, how shall I say, not slim. I managed to get in but it was a daunting prospect especially as the sign on the door said that it could take only "three people undangerously." I would have walked had two other – slim ones – been in there. The Bruna itself was terrific. Okay, language was a bit of an issue but the inevitable hand-waving came in useful even if my command of Italian and vocabulary hadn't picked up as it might have. Anyway, reservation found – amazingly since the book with names looked chaotic – I was given a very good size room with double bed and bathroom and it was most comfortable. All for just over 40 euros. Credit cards are only accepted during mid-afternoon to early evening when I believe the owner's daughter comes. I had called her to give my card details a few days previously and we had had an amusing conversation.
After a fair breakfast overlooking Roman roof tops, I had just over an hour to walk around. It brought back many happy memories of our visit just two months earlier and I had got down to the Forum before having to move to Fiumcino Airport. The Terravision bus was pretty much on time but I was there slightly early and, for once, it went smoothly. An on-time departure? No, as half an hour before take-off, Vueling announced the delay which became worse with again the length of time taken to bus people to the aircraft. It was a quick flight – spent side-saddle again – but didn't make up any time. However, an arrival at 4pm into Catania was still pleasant.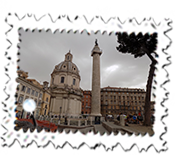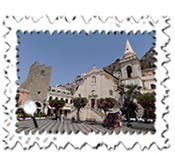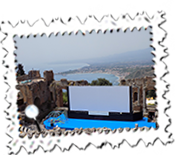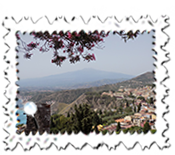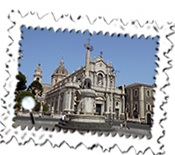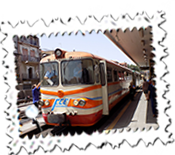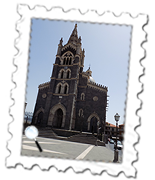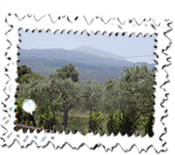 A bus to the Railway Station didn't take long and, from there, it was a few minutes walk to the B & B XX Miglia – in Ventimiglia Street. Get it? – where I put up. Again, in a large building and on the top floor, this was an ideal place and very friendly. It has been presumably refurbished as it is very light and welcoming. Okay, I had the single attic room with a vast beam going through its length and, although I had to stand close to the door without crusting myself, I could have investigated it further before booking and maybe realised this. The description was completely truthful so it was nothing but my fault. Anyway,it was a very nice place.
Catania itself is pleasant also. The main piazza hosts the impressive cathedral, fine buildings and a statue of an elephant... There was also a giant screen for the football tournament being held and a vast crowd around it as Italy were playing. It reminded me of a time in Verona during a similar tournament way back in the 90s when, with Italy playing while I was in a restaurant, I told the waiter not to rush over my meal as I could see how passionate he was about football. The same couldn't be said of me but, when Italy scored, he came over almost in tears shrieking "Italia. They score!"
I found a lovely restaurant in a side street. Decent meals, nice wine, lovely atmosphere and friendly staff so I went on all three nights. The walk back to the hotel didn't take long and, all in all, I found Catania a nice place.
There were two reasons for going to Sicily. The first was to walk up Etna and the second to visit Taormina. On the first day, I took the bus to Taormina via the seaside town below of Giardini Naxos and it was wonderful. The journey took around an hour and a quarter and the bus was very full on the final stretch up to Taormina.
Taormina rightly is regarded as one of the main Sicilian highlights and it was easy to see why. In glorious weather, the views overlooking the coast were fabulous and the town itself is centred mainly along one – long – main street full of restaurants and shops. Towards the end, a beautiful piazza and church have remarkable views of the coast and Etna and it is certainly one of the most beautiful places I have visited. In a way, it reminded me of Capri Town.
One of Taormina's main draws is its Greek Theatre whose setting with its amphitheatrical layout plays host to many international events. One such, the Taormina Film Fest, was being held during the week and guidebooks say that, if you are lucky to be there at the same time as an event, it is quite an occasion. I'm sure that it is true but, for me, the big screen unfortunately spoilt the views. Never mind, it was still a wonderful experience and the views, in general, were terrific. The visit to Taormina turned out to be the highlight of my trip.
The trip to Etna was interesting but not as I planned. I have to say that, as there was only one daily bus in each direction from Catania which left a long time on the mountain, I did have reservations especially as bookings could not be made on the buses. Whether it would have been a problem, I do not know but I changed my mind when I saw that there is a frequent train service from Catania's Borgo Station which travels – slowly – through Etna's foothills in some parts.
It was a lovely journey which started at the main station's Underground platform. Apparently, this is Europe's most southerly metro but journeys are infrequent, if cheap and travel from the port via the station to Borgo in a few minutes. Borgo itself is a small station and I managed to buy a return ticket to Randazzo, the closest town to Etna, for just over 9 euros. Carriages on each journey presumably demand upon expected demand so it was two out and one back. It's a little bit rickety but tremendous fun and, I suspect, slightly off the tourist trail as, in Randazzo, I was perceived as a tourist and people wanted to talk.
Randazzo is a pleasant town with an impressive church, Santa Maria, built from lava stone. The mountain is far enough away to make it a longish walk to reach but still close enough to make it tantalisingly close. I stuck to a walk along a main road where locals said hello from mopeds and perfect weather again made it something different if not what I had set out to do. The train journey back, in the one carriage, was peaceful as I was pretty much the only person on it.
The following day was my return to the U.K. and I was praying that my luck would change with delayed flights as I was hoping that, if all went well, I would be back in Swindon to catch the very end of a charity match hosted by my old club, Swindon C.C., with sides generously provided by former and current Gloucestershire players, Jon Lewis and Hamish Marshall. I had ample time to make it to Catania Airport and waited with an affable Italian chap who pointed out that we had to watch out for the bus as it might go from the other side of the bus station depending upon which of the circuitous routes it was taking. Which is exactly what happened. So, having missed that, another bus fortunately came shortly afterwards but which gave us an extended tour of central Catania, its port and, in fact, most parts of the city. So what I had expected to take ten minutes, like the outbound journey, took forty-five and, whilst not a great issue, did have me looking slightly pensively at my watch.
Catania Airport was efficient also so everything was plain sailing but, sadly, there was the inevitable delay mostly through bussing passengers to the easyJet aircraft. Although it was half an hour late, we did make up good time and landed pretty much on time so my hopes were high. It was a shame that the baggage took an age to arrive but I was lucky as one train was slightly late and, after a mad dash across London, I did get back to Swindon in time to meet a few friends and have a chat with Jon and Hamish so it was the ideal ending to a lovely trip.