Legend had it that the bridge was the setting for Simon and Garfunkel's legendary song, Bridge Over Troubled Water, but in a comparatively recent interview, Art Garfunkel refuted the idea. Garfunkel did, though, stay at the Fisherman's Cot as did one of the Beatles, George Harrison.
It is not the cheapest place to stay and I have to admit to being slightly envious when Mum ended up with the river and bridge view room but, anyway, my larger room was extremely comfortable.
With the weather being unexpectedly good, we had a look at the outside of Bickleigh Castle (where a wedding was taking place) before taking to the Devonian roads near Cadeleigh and Thorverton.
Having visited and enjoyed Exmoor last year, we went this time to Dartmoor. Being one who dislikes driving in towns and especially ones I am unfamiliar with, I was pleased to find a road to Dartmoor which avoided Exeter on the Sunday. This promising start, though, was scuppered after buying petrol in Crediton and finding no sign of the said road. The Sat Nav did its best to tell us that we were wrong - turn round when possible - but eventually took us along the correct road which turned out to be, well, Devonian: very narrow and therefore very slow. No cows, though.
This little obstacle overcome, we progressed on to Dartmoor despite reservations about whether we were on the right road. Whatever, we made it to the lovely hamlet of Postbridge where we enjoyed the main bridge and also clapper bridge.
Continuing on to Princetown, home of the notorious prison, we again struggled to find signs for Buckfastleigh and were again concerned where the Sat Nav was taking us. A pit-stop to check was enough to allay any fears and we did eventually make it to the well-known and beautiful Buckfast Abbey.
It is many years since I was last there and we enjoyed our visit. The abbey was a picture on another glorious day and listening to the bells put my own efforts as a ringer somewhat to shame. We had a good look inside and out and picked up some of the well-known tonic wine.
It was a pleasant and less fraught ride back to Bickleigh. We ate very well in the Fisherman's Cot. Table reservations are strongly recommended and can be booked on the hotel's website which is what we did. The food is excellent and the views towards the bridge stunning. Breakfast was equally good and we were so pleased to have stayed there.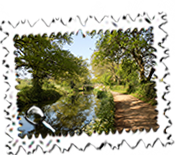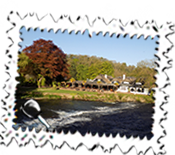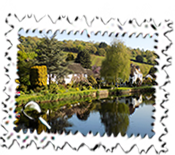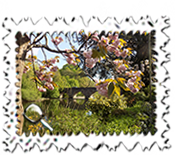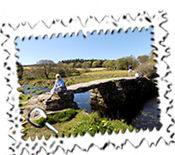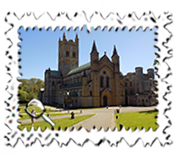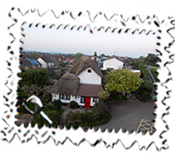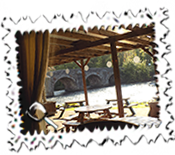 We had a gentle ride back to Swindon on the Monday stopping en route at a different part of the canal and having lunch in another favourite haunt, the Globe Inn at Sampford Peverell. We had a look around Tiverton also which brought back some happy memories from school.
We saw the tea gardens on the canal where friends and I enjoyed many happy times and good food, most of the times legally. Boots, in the town, did not bring back such cherished memories as it was the place where I was once caught by a teacher for looking suspicious and taken back to the school to be confronted by my housemaster. I suppose I did look suspicious as it was my fourteenth visit into town during the fortnight which I had been banned and it was a shame to be caught on the last day. After all, I was only trying to sneak out of Boots without being seen but sadly didn't notice the teacher at the end of the aisle I had picked in my flight to safety... Another week's ban. It was nice this time going in when I was allowed to.