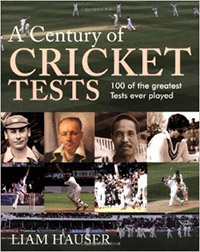 A CENTURY OF CRICKET TESTS
by Liam Hauser

Published by
New Holland Publishers (Australia) Pty Ltd
The Chandlery Unit 009, 50 Westminster Bridge, London SE1 7QY and
1/66 Gibbes Street, Chatswood, NSW 2067, Australia and 5/39 Woodside Ave, Northcote, Auckland 0627, New Zealand

Website: www.newhollandpublishers.com

Pages: 368

MRP: £19.99 (in U.K.)

In a recent review, I mentioned about mighty Australian tomes. I was lucky again to receive a further one, A Century of Cricket Tests, which was again too big for the postman to deliver through my letterbox but it was very much worth the visit to the local branch to collect it.

Again, like another New Holland publication, The 100 Greatest Cricketers, I admire anyone bringing out a book on a selection of Cricket Tests as, again, everyone has different views. This one, though, as its title suggests, goes on to depict itself as 100 of the greatest Tests ever played which is slightly different.

The criteria set for the author, Liam Hauser, was to find excellent Tests featuring mainly the oldest protagonists, England and Australia, but that only one Test during any series could be used. Readers might well hope for more from the 1981 and 2005 series and the shorter 2000-01 India and Australia series but fair's fair and the greatest compliment that I can pay Liam is to say that I cannot disagree with any of his picks. Naturally, though, from memory, only the last forty years or so...

As many know, Test cricket is the pinnacle of the sport: a first day collapse need not suggest impending doom for that team or for spectators with tickets for the last day or two so, whilst many of the Tests listed ended in close finishes with one side winning and the other losing, there are some famous draws. Who can forget the Timeless Test which South Africa might have lost in 1939 after ten days because England's ship had to depart?

A full scorecard accompanies each Test and the photographs are excellent and not common. The New Holland finished product is again exemplary and I would urge anyone interested to pick up this book. With both hands, though...